Tissue request form
The NBM supports promising research work by providing tissue from their Brain Bank. In order to receive tissue from the NBM, please provide us with a written request. Please use the Tissue Request Form and also add the approval of the ethics committee for your project.
Your tissue request will be checked internally first. This process takes up to 3-4 weeks, after which you will receive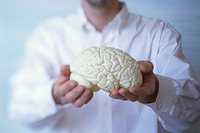 feedback from us if the requested project is ready for approval. We will also inform you in what condition we will provide tissue and if further documents will be required.
The NBM will charge for the issuing of tissue (see form NBM fees). The fees charged will be according to the requested amount of tissue as well as the anatomic region, and will be used only for the purpose to cover the costs coming with tissue sampling.
Please provide us with the completely filled out and signed Tissue Request From and the approval of the Ethics Committee per email to: nbm@med.uni-muenchen.de
Downloads